Funny and Misleading Labels
I went to a nutrition store and just starting taking some photos. Below is my ruthless-nutritionist take on what I saw.
Maximum strength BCAA's. WOW!
Bro!
No.
BCAA's only have one level of strength.
Branch Chain Amino Acids are very specific (and tiny) molecules. If you alter them in any way, it has profound effects on what they do. They might not even be absorbed from your intestines. Altering them in any way would be like taking the wheels off your bike.
This claim is similar to saying "maximum strength water".
Ok this isn't a label, this is a real book.
I flipped through it and it wasn't all bad. But like most flashy nutrition books, they take concepts like "Sugar is toxic" and blow it out of proportion …or just give false information. Instead of providing accurate and effective lifestyle information (that I provide), such as:
If you work out really hard, it's ok to have 50 grams of sugar, even if it's from candy, after your workout. 
I've never met anyone who didn't love that advice.
And by the way, if you are 50 years old and haven't learned that dieting doesn't work, please call me immediately and I will help you have a healthy relationship with food, OK?
"7 Day Total Body Cleanse" so I'm thinking… "it cleanses my brain? My kidneys? My heart? That's what it says!"
But looking at the ingredients, it's just some fibre and supplements that are backed with very limited research.
Save your money and eat 1 Tbsp each of flax seed and psyllium husk a day, (put it in shakes or yogurt) with lots of water between meals.
This won't help your total body but neither will this supplement. I know my recipe will help your intestines.
Raw Protein! So in this bag there should be so sashimi, or a bloody steak, right?
But no, sadly. Just some powder.
Oh I get it. "Raw" is the brand name.
If it was actual raw protein it would be really good for us; giving us protein, iron, and if the animal was grass-fed, omega 3 essential fats!
This bag of powder might be good too. But it might not have anything in it that's on the label. Such are supplements in their unregulated world.
Don't forget about the "Beyond Organic Formula" I laughed my head off when I read that.  The girls at the store were getting upset at my insolence.
Full Spectrum! Wait… fats have spectrums? I thought light….. I'm confused.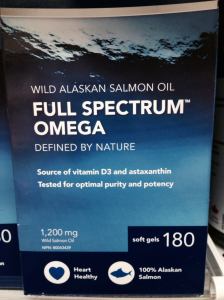 Maybe they meant the types of fats?
Most fats have a mix of saturated, monounsaturated, and polyunsaturated fats. Some foods have more of one kind than others. Like beef for example, has way more saturated fat than flax oil does.
And most foods do not have omega 3 fats, which is why we take products like this one – fish oil.
But I don't take fish oil pills to get other kinds of fats, thanks. I take fish oil pills to get EPA and DHA omega 3's. I get other fats from olive oil, avocados, cashews, steak, and so on.
Don't forget that this product was defined by nature.
I sell hand-picked supplements. Supplements help a lot of people. Supplements do not have to follow the same labeling guidelines that food products do. So you have to be skeptical, or even better, get shopping help from a scientist, or at least from a guy like me who took a lot of science at a place called University.