Avocados! The Fatty Fruit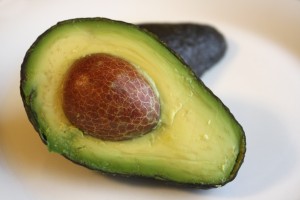 You should treat avocados like a fat. Your basic avocado has about 20-30 grams of the succulent stuff, depending on its size.
This is handy since that's the correct fat portion for a low carb meal, if you're into that. 
Another way to control their portion is to mash it up. Half a cup is 18 grams of fat.
They taste great with a bit of salt and pepper, they're amazing on salads, or as a dip. See below for recipes.
Their fat profile is very healthy. Kinda like a nut. In terms of micronutrients, then have a lot of folate and are good for your eyes. They are low carb and high fibre. They are good for you.
Bad Timing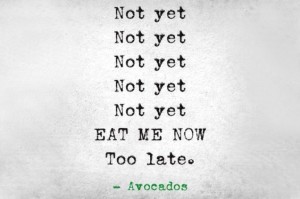 The main compliant I hear about avocados is that they are only ripe for a short period of time. This is easily fixed.
Wait until it's almost ripe, and then put it in the fridge
It will slow the ripening process down to a crawl.
When is it ripe?
It should be dark green (almost black), and dent easily but the skin shouldn't crack (overripe). Some like it harder than others.
How to cut it:
Stand it up on a cutting board. Cut it in half, down and around, slicing your knife along the pit. If you hold it in your hand, you are likely to cut yourself. Once the knife has been around, open it like you would an Oreo cookie, which is to say rotate and separate. Now take a spoon and scoop it out. You can then slice it or whatever you need. If you can't scoop it out, it ain't ripe enough. You can remove the pit with the knife.
Traditional Guacamole Recipe
1 part Avocado
1/4 part diced tomato
1/4 part diced onion
1/8 part fresh chopped cilantro
Dash of chile pepper
Salt
Kb's Guacamole – Not authentic
I dunno who taught me this. My buddy James I think.
1 avocado
2 garlic cloves, pressed or very finely chopped
5 dashes of Worchestershire sauce
3 drops of Tabasco sauce
Plenty of salt and pepper
Juice from a small wedge of lime
Did you know that dips such as Guacamole will taste better once you let them sit for a few hours?
But wait – don't let your Guac go brown!  You think I'm going to say – leave the pit in. But that myth has been busted, even though I still think it helps. Your best bet is simply prevent air getting at it.
Shake Thickener
I dislike putting avocados in shakes because they get thicker than cold oatmeal, and just as bland. That's the soluble fibre. I dated this girl once who made great avocado shakes, but she used a protein powder with tons of sweeteners. Maybe I should have focused on the positives about the recipe, instead of the few things I didn't like, and I'd still have it.
Avocado and Yummy Sandwiches.
My buddy James absolutely taught me this. What can I say, he taught me a lot about avocados. These bad boys are non compliant. In fact I'm kind of being irresponsible by sharing this recipe. This sandwich is 500 calories and doesn't make you feel satisfied — at all. The only thing it does is make you sautee more mushrooms and send a friend out for more avocados. I therefore recommend you eat them only after two hours of exercise. 
1 onion bun
chicken breast, sliced
1/2 avocado sliced
Sauteed portobello mushrooms
Swiss cheese (hello non compliance via extra fat)
Salt
Mustard
Better leave things on that note… Like most foods, Avocados can be used for good or evil. Avocados are kinda high-maintenance but sometimes in life that is worth it.
Enjoy!